[UNG-022]
IMPULSIVE GLUTTONY - ENLIGHTENMENT THROUGH
NARCOTIC DISSOLUTION
COMING MAY 31st!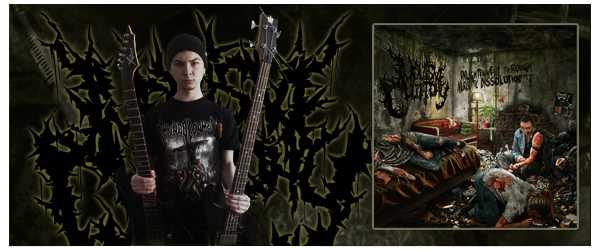 Debut 3-track EP from Impulsive Gluttony is a raw, filthy guttural slam for all fans of Cerebral Incubation, Artery Eruption and Digested Flesh! All music solely composed, recorded and mixed by Alex (Egregious, Bowel Leakage). Enlightenment Through Narcotic Dissolution will be limited to 500 hand-numbered copies. Ltd.50 Demo 2012 free with 25 first pre-orders of any CD+merch package. Do not miss yours!!!
---
UNGODLY RUINS PRODUCTIONS SIGNS VORACITY!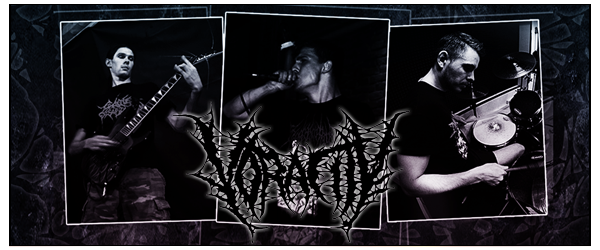 Ukrainian slam trio Voracity joined Ungodly Ruins Productions family and finished work on their long-awaited debut album "Shrunken Heads Vertigo". Be ready for nine tracks of pure slamming sickness with brutal vocals, powerful guitar riffs, killer drumming and amazing sound production. A must have stuff for all fans of Cerebral Incubation, Ingested and Cephalotripsy.
---
CRUD SIGN WITH UNGODLY RUINS PRODUCTIONS!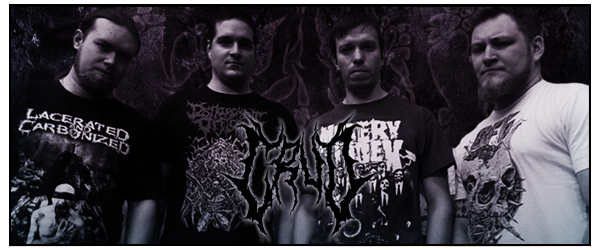 Ungodly Ruins Productions is proud to announce the signing of Russian skull-crushing warmachine Crud. After releasing of killer single "Sacred War" the band immediately comes to the making of their full-length opus which comes to completion in 2018. Be ready for uncompromising bombardments diluted with some tragic tremolos, smashing slam inserts and assisted with sick vocals. Golden era style brutal death metal for all fans of Deeds Of Flesh, Vomit The Soul and Severed Savior.
---
TON SIGN WITH UNGODLY RUINS PRODUCTIONS!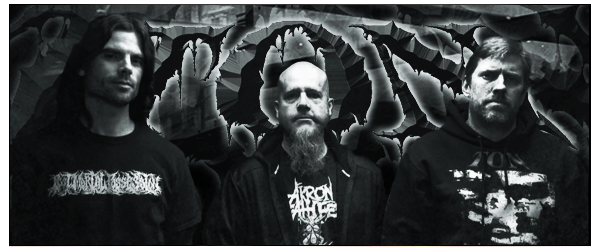 Ungodly Ruins Productions is honored to announce the signing of Ohio death metal veterans TON, est 1993. Be ready for their brand new CD in 2018 which will be dedicated to the 25 years of the bands existence. OFFICIAL STATEMENT FROM THE BAND: "We are very happy to be working with Ungodly Ruins Productions. They have supported us in the past and we look forward to release a new album in 2018. We are also happy to be a part of a roster of very brutal bands" More news from TON soon, be on the lookout!
---
[UNG-021]
WEAKNESS - DEMOLITION
AVA
ILABLE NOW!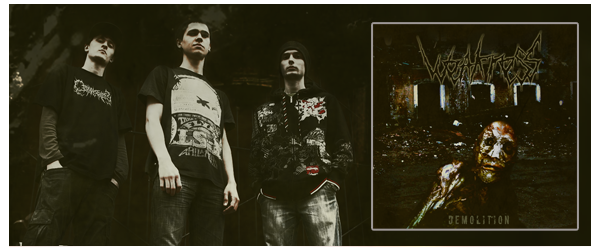 Uncompromising slamming butchery from Siberia for all fans of early works of Devourment, Cephalotripsy and Infernal Revulsion. Demo 2009 plus two rare unreleased old tracks as bonus. Limited to 500 hand-numbered copies. Do not miss this sickness!
---
[UNG-020]
GURGLECTOMY - SEAS OF ROTTING VOMIT
AVAILABLE NOW!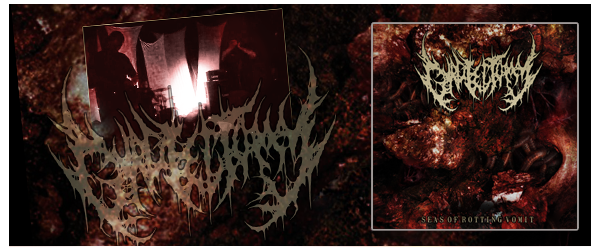 Re-issue of well-known sick EP from Argentinian blasting guttural death monsters Gurglectomy. New get-up and one killer unreleased bonus track! The last chance to get this amazing release into your collection. Limited to 500 hand-numbered copies!
---
[UNG-019]
BOWEL LEAKAGE - HARVEST OF NAUSEATING REMNANTS
SOLD OUT!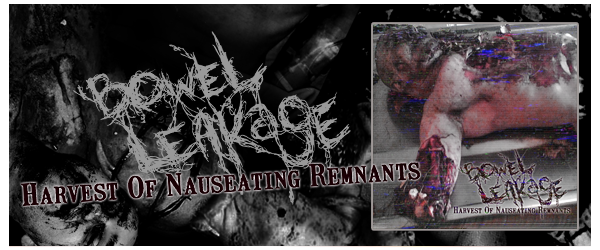 Bowel Leakage hailing from Moscow will exterminate humanity with this EP. 6 tracks of blasting goregrind with guest vomitations from NX5 (Active Stenosis) and Erwin De Groot (Last Days Of Humanity, S.M.E.S.). Limited to 100 hand-numbered copies!
---
[UNG-018]
GORGED BILE - ORIGIN OF CONTEMPT
AVAILABLE NOW!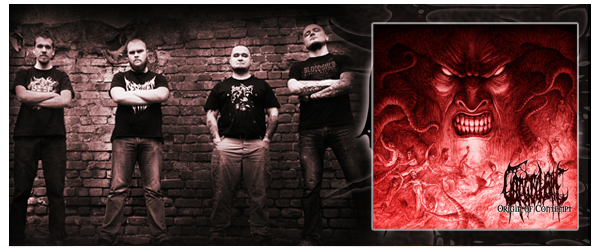 Merciless Moscow brutality is back with their brand new album. Sick guitars and bass passages, uncompromising drum patterns, killer vocals... 10 tracks of slashing structures with more hate than first time! You have been warned!
---
[UNG-017]
SATURNO - Thou Art All
AVAILABLE NOW!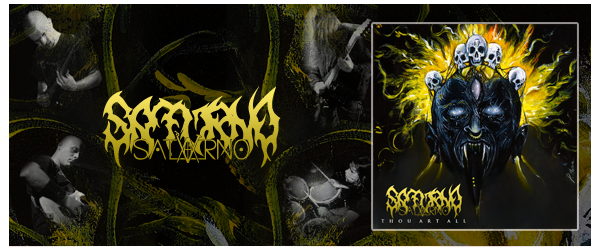 Ungodly Ruins Productions proudly presents Saturno! Atmospheric death metal tornado from Italy with some tech delights, bewitching melodies, conceptual lyrics and
killer vocals. Do not miss this amazing CD!
---
[UNG-016]
BAALSEBUB - THE SICKNESS OF THE HOLY INQUISITION
AVAILABLE NOW!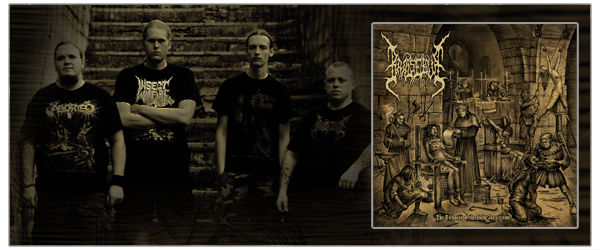 Ungodly Ruins Productions extremely presents the long awaited debut full-length CD from Estonian medieval brutal execution Baalsebub. Eight tracks of crushing blasting style with some smashing slam inserts, killer riffs and sick vocals. Amazing cover art by Alex Tartsus Studio. Do not miss your copy of this masterpiece.
---
[UNG-015]
SLAVES OF SUFFERING - ADVENT OF DESPAIR
AVAILABLE NOW!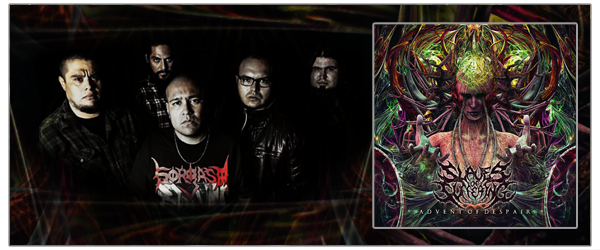 Uncompromising guttural butchery from the bowels of Tijuana featuring ex-members of Shattered Eyes! Be ready for brutal guitar riffs, massive drum attack and deep guttural vocals. Powerful sound production done by Diego Soria (bass-player of mighty Disgorge and Broken Hope) at AudioZombie Recordings. Sick venomous cover art by the well known Remy Cuveillier (Headsplit Design)...
---
OLDER ENTRIES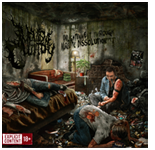 IMPULSIVE GLUTTONY
Enlightenment Through
Narcotic Dissolution
PRE-ORDER NOW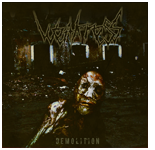 WEAKNESS
Demolition
ORDER NOW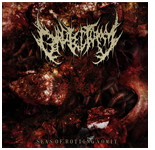 GURGLECTOMY
Seas Of Rotting Vomit
ORDER NOW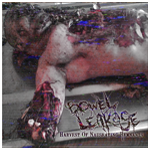 BOWEL LEAKAGE
Harvest Of Nauseating Remnants
SOLD OUT