<!— Строка пути —>





HEAVY LIES THE CROWN - GEARS OF INHUMANITY "REGULAR" CD




PRICE: $10.00

PRE-ORDER *Shipping out on March 27




Ungodly Ruins Productions


Conceptual devastating opus "Gears Of Inhumanity" from Indianapolis, Indiana based
brutal tech death Onslaught Heavy Lies The Crown with remastered sound and updated
visual part! Uncompromising high tech brutal riffage, savage bombardments and diverse
extreme vocal attack perfectly complemented by bewitching melodies! Jewel-case version!






IN STOCK




ADD TO CART



---





HEAVY LIES THE CROWN - GEARS OF INHUMANITY "LIMITED DIGIPACK" CD




PRICE: $12.00

PRE-ORDER *Shipping out on March 27




Ungodly Ruins Productions


Exclusive limited version of "Gears Of Inhumanity" in 4-panel glossy digipack
with alternate design. Limited to 100 hand-numbered copies!






IN STOCK




ADD TO CART



---





HEAVY LIES THE CROWN - GEARS OF INHUMANITY "BOTH VERSIONS" CD




PRICE: $18.00

PRE-ORDER *Shipping out on March 27




Ungodly Ruins Productions


Discount option to get both versions of "Gears Of Inhumanity" CD.






IN STOCK




ADD TO CART



---





CORPSEFLESH - REARRANGED WITH A 12 GAUGE CASSETTE


PRICE: $10.00

***PRE-ORDER***




Ungodly Ruins Productions




Limited edition cassette version of l

ong awaited second full-length from Aussie barbarians
Corpseflesh! Nine hymns to violence that you have long lacked. First cassette release from
Ungodly Ruins Productions. Pro-manufactured, includes 6 panel booklet. Don't miss your copy...







IN STOCK




ADD TO CART



---





CORPSEFLESH - REARRANGED WITH A 12 GAUGE CD+CASSETTE BUNDLE


PRICE: $18.00

***PRE-ORDER***




Ungodly Ruins Productions




Discount option to get both versions of "Rearranged With a 12 Gauge" on CD and cassette.









IN STOCK




ADD TO CART








HEAVY LIES THE CROWN - GEARS OF INHUMANITY T-SHIRT




PRICE: $20.00

*PRE-ORDER* Shipping out on March 27




Choose the size:

S

M

L

XL

XXL








IN STOCK



---





HEAVY LIES THE CROWN - I AM THE REBIRTH... LONGSLEEVE




PRICE: $25.00

*PRE-ORDER* Shipping out on March 27




Choose the size:

S

M

L

XL

XXL








IN STOCK



---





EMBODIMENT OF SUFFERING - IMMACULATE T-SHIRT




PRICE: $20.00

*PRE-ORDER* Shipping out on December 27




Choose the size:

S

M

L

XL

XXL








IN STOCK









HEAVY LIES THE CROWN - GEARS T-SHIRT PACKAGE




CD, T-SHIRT, POSTER, STICKERS




PRICE: $29.00

*PRE-ORDER* Shipping out on March 27




Choose the size:

S

M

L

XL

XXL





IN STOCK



---






HEAVY LIES THE CROWN - GEARS LONGSLEEVE PACKAGE




CD, LONGSLEEVE, POSTER, STICKERS




PRICE: $34.00

*PRE-ORDER* Shipping out on March 27




Choose the size:

S

M

L

XL

XXL





IN STOCK



---






EMBODIMENT OF SUFFERING - IMMACULATE T-SHIRT PACKAGE




CD, T-SHIRT, POSTER, STICKERS




PRICE: $29.00

*PRE-ORDER* Shipping out on December 27




Choose the size:

S

M

L

XL

XXL





IN STOCK



---






EMBODIMENT OF SUFFERING - REVOKING FULL PACKAGE #1




CD, 2 T-SHIRTS, POSTER, STICKERS




PRICE: $47.00

*PRE-ORDER* Shipping out on December 27




Choose the size:

S

M

L

XL

XXL





IN STOCK



---






EMBODIMENT OF SUFFERING - REVOKING FULL PACKAGE #2




CD, T-SHIRT, LONGSLEEVE, POSTER, STICKERS




PRICE: $52.00

*PRE-ORDER* Shipping out on December 27




Choose the size:

S

M

L

XL

XXL





IN STOCK



EMBODIMENT OF SUFFERING - REVOKING SALVATION
COMING DECEMBER 27
!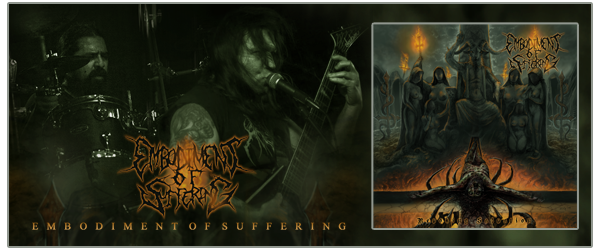 Ungodly Ruins Productions proudly presents blasphemic TXDM malediction Embodiment Of Suffering and their debut CD "Revoking Salvation". Hailing from Austin, Texas this insatiable beast bring us the best TXDM traditions in the form of annihilating blastbeats, crushing grooves, explosive guitar passages and sinistrous vocals. Featuring amazing cover art by the master of darkness Jon Zig. Do not miss this piece of brutality!
---
HEAVY LIES THE CROWN - GEARS OF INHUMANITY
COMING MARCH 27!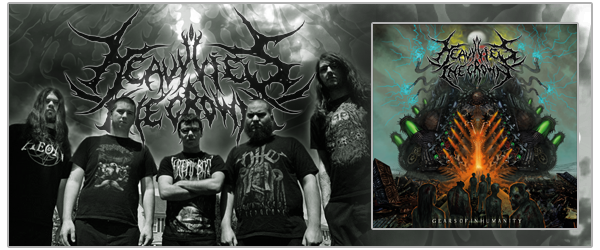 Indianapolis, Indiana based brutal tech death onslaught Heavy Lies The Crown joined the Ungodly Ruins ranks and are ready to unleash their conceptual devastating opus "Gears Of Inhumanity" with furious remastered sound, updated visual part and new merch designs. Uncompromising high tech brutal riffage, savage bombardments and diverse extreme vocal attack perfectly complemented by bewitching melodies and turn this release into a masterpiece of genre. Available on regular jewel-case CD and as limited to 100 hand-numbered copies digipack edition with alternate design.
---