<!— Строка пути —>
---





LOGISTIC SLAUGHTER - LOWER FORMS OF LIFE "REGULAR" CD




PRICE: $10.00

*PRE-ORDER* Shipping out on April 30




Ungodly Ruins Productions


Second conceptual opus from Bay Area, California based dissonant tech brutal death metal
titans Logistic Slaughter! Their unsurpassed hysterical manner of rendition, filigree instrument
skills, varied sick vocals and own visions of extreme music will not leave you indefferent and
will plunge you into an atmospheric abyss of pain and misery. Mixed by Kurt Ballou at Godcity
studio. Mastered by Scott Hull at Visceral Sound. Cover art by Dusty Ray.






IN STOCK




ADD TO CART



---





LOGISTIC SLAUGHTER - LOWER FORMS OF LIFE "LIMITED DIGIPACK" CD




PRICE: $12.00

*PRE-ORDER* Shipping out on April 30




Ungodly Ruins Productions


Exclusive limited edition version of "Lower Forms Of Life" in 6-panel frosted digipack.
Limited to 200 hand-numbered copies.






IN STOCK




ADD TO CART



---





LOGISTIC SLAUGHTER - LOWER FORMS OF LIFE "BOTH VERSIONS" CD




PRICE: $18.00

*PRE-ORDER* Shipping out on

April 30




Ungodly Ruins Productions




Discount option to get both versions of "

Lower Forms Of Life

".






IN STOCK




ADD TO CART



---





VENOM SYMBIOTE - DOMINION OF THE ANCIENTS "REGULAR" CD




PRICE: $10.00

*PRE-ORDER* Shipping out on January 15




Ungodly Ruins Productions


Ominous Lovecraftian writings are reborn in the form of crushing debut album from Belarusian
brutal slam death syndicate Venom Symbiote! Amazing songwriting, uncompromising brutal
and atmospheric riffage, monstrous gurgles and powerful sound for all fans
of high quality slams and the dark master's universe!






IN STOCK




ADD TO CART



---





VENOM SYMBIOTE - DOMINION OF THE ANCIENTS "LIMITED DIGIPACK" CD




PRICE: $12.00

*PRE-ORDER* Shipping out on January 15




Ungodly Ruins Productions




Exclusive limited version of Venom Symbiote's debut album "Dominion Of the Ancients"




in 4-panel glossy digipack. Limited to 100 hand-numbered copies.









IN STOCK




ADD TO CART



---





VENOM SYMBIOTE - DOMINION OF THE ANCIENTS "BOTH VERSIONS" CD




PRICE: $18.00

*PRE-ORDER* Shipping out on January 15




Ungodly Ruins Productions




Discount option to get both versions of "Dominion Of the Ancients".









IN STOCK




ADD TO CART








LOGISTIC SLAUGHTER - LOWER FORMS OF LIFE T-SHIRT




PRICE: $22.00

*PRE-ORDER* Shipping out on April 30




Choose the size:

S

M

L

XL

XXL








IN STOCK



---





LOGISTIC SLAUGHTER

-

LOWER FORMS OF LIFE

LONGSLEEVE




PRICE: $27.00

*PRE-ORDER* Shipping out on April 30




Choose the size:

S

M

L

XL

XXL








IN STOCK



---





LOGISTIC SLAUGHTER

-

LOWER FORMS OF LIFE

ZIP HOODIE




PRICE: $45.00

*PRE-ORDER* Shipping out on April 30




Choose the size:

S

M

L

XL

XXL








IN STOCK



---





VENOM SYMBIOTE - DOMINION OF THE ANCIENTS LONGSLEEVE




PRICE: $27.00

*PRE-ORDER* Shipping out on January 15




Choose the size:

S

M

L

XL

XXL








IN STOCK









LOGISTIC SLAUGHTER - LOWER FORMS T-SHIRT PACKAGE




CD, T-SHIRT, POSTER, STICKERS




PRICE: $29.00

*PRE-ORDER* Shipping out on April 30




Choose the size:

S

M

L

XL

XXL





IN STOCK



---






LOGISTIC SLAUGHTER - LOWER FORMS LONGSLEEVE PACKAGE




CD, LONGSLEEVE, POSTER, STICKERS




PRICE: $36.00

*PRE-ORDER* Shipping out on April 30




Choose the size:

S

M

L

XL

XXL





IN STOCK



---






LOGISTIC SLAUGHTER - LOWER FORMS ZIP HOODIE PACKAGE




CD, ZIP HOODIE, POSTER, STICKERS




PRICE: $54.00

*PRE-ORDER* Shipping out on April 30




Choose the size:

S

M

L

XL

XXL





IN STOCK



---






LOGISTIC SLAUGHTER - LOWER FORMS FAN PACKAGE




CD, DIGIPACK, T-SHIRT, LONGSLEEVE, HOODIE, POSTER, STICKERS




PRICE: $99.00

*PRE-ORDER* Shipping out on April 30




Choose the size:

S

M

L

XL

XXL





IN STOCK



---
NAEGLERIA FOWLERI - ODES TO THE ADORABLE ESSENCE OF PUTREFACTION
COMING AUGUST 28
!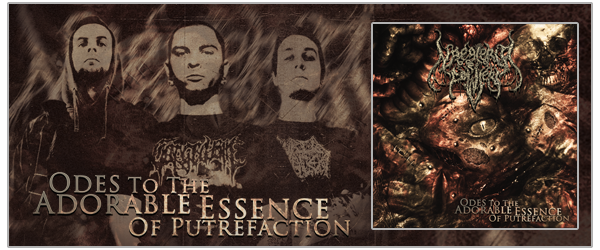 Highly anticipated full-length opus from ultra blasting gore whirlwind Naegleria Fowleri. "Odes To The Adorable Essence Of Putrefaction" is nothing but a relentless slab of sonic decimation from members of Hydrocele and Bowel Leakage. 19 tracks of harsh 300+ BPM ear laceration, savagely produced by Gravestone Studios. Do not miss this BLASTerpiece!
---
LOGISTIC SLAUGHTER - LOWER FORMS OF LIFE
COMING APRIL 30
!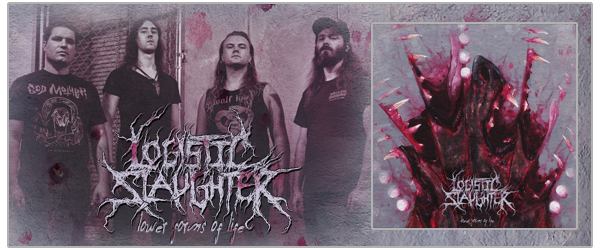 Bay Area, California based disonant tech brutal death metal titans Logistic Slaughter is ready to unleash their second conceptual full-length opus "Lower Forms of Life" on April 30, 2021 via Ungodly Ruins Productions. Their unsurpassed hystercal manner of rendition, filigree instrument skills, varied sick vocals and own vision of extreme music will not leave you indefferent and will plunge you into an atmospheric abyss of ain and misery. Mixed by Kurt Ballou at Godcity Studios. Mastered by Scott Hull at Visceral Sound. Cover art by Dusty Ray.
---
VENOM SYMBIOTE - DOMINION OF THE ANCIENTS
COMING DECEMBER 25
!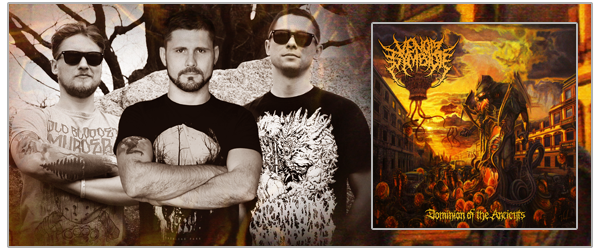 Ominous Lovecraftian writings are reborn in the form of crushing debut album from Belarusian brutal slam death syndicate Venom Symbiote! Amazing songwriting, uncompromising brutal and atmospheric riffage, mostrous gurgles and powerful sound production for all fans of high quality slams and the dark master's universe. Do not miss this great release!
---
DRIPPED - PUTRESCENCE OMNISCIENCE
COMING AUGUST 21
!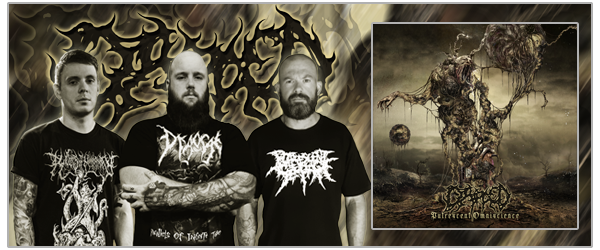 Ungodly Ruins Productions proudly presents Australian brutal death metal slaughterhouse Dripped and their debut 6-track EP "Putrescence Omniscience". Furious tech stuff for all fans of Disgorge (US), Putridity, Condemned etc. Mixed and mastered at Slam Machine Studio. Amazing cover art by Inhumar Flesh Media. Pay attention to this piece of pure rampage!
---





FACELIFT DEFORMATION - CYBERNETIC ORGANISM CASSETTE BLACK




PRICE: $12.00




Graboid Of the Ground Records


Second full-length album from this Chinese / Taiwanese brutal slam band.
Black cassette version.







IN STOCK




ADD TO CART



---





FACELIFT DEFORMATION - CYBERNETIC ORGANISM CASSETTE BLUE




PRICE: $12.00




Graboid Of the Ground Records


Second full-length album from this Chinese / Taiwanese brutal slam band.
Blue cassette version.







IN STOCK




ADD TO CART



---





FACELIFT DEFORMATION - CYBERNETIC ORGANISM CASSETTE TRANSPARENT




PRICE: $12.00




Graboid Of the Ground Records


Second full-length album from this Chinese / Taiwanese brutal slam band.
Clear transparent cassette version.







IN STOCK




ADD TO CART



---





CRYOGENIC DEFILEMENT - WORLDWIDE EXTERMINATION CASSETTE BLACK




PRICE: $12.00




Graboid Of the Ground Records


Slamming deathcore brutality from Hong Kong.
Black cassette version.







IN STOCK




ADD TO CART



---





CRYOGENIC DEFILEMENT - WORLDWIDE EXTERMINATION CASSETTE RED




PRICE: $12.00




Graboid Of the Ground Records




Slamming deathcore brutality from Hong Kong.




Red cassette version.









IN STOCK




ADD TO CART



---





CRYOGENIC DEFILEMENT - WORLDWIDE EXTERMINATION CASSETTE TRANSPARENT




PRICE: $12.00




Graboid Of the Ground Records




Slamming deathcore brutality from Hong Kong.




Clear transparent cassette version.









IN STOCK




ADD TO CART



---





SINTURY - DISGORGING THE DEAD CASSETTE COFFEE




PRICE: $12.00




Graboid Of the Ground Records


Classic album from TXDM pioneers. Comes with slipcase!
Coffee cassette version.







IN STOCK




ADD TO CART



---





SINTURY - DISGORGING THE DEAD CASSETTE GREEN




PRICE: $12.00




Graboid Of the Ground Records




Classic album from TXDM pioneers. Comes with slipcase!




Green cassette version.









IN STOCK




ADD TO CART



---





SINTURY - DISGORGING THE DEAD CASSETTE DARK RED




PRICE: $12.00




Graboid Of the Ground Records




Classic album from TXDM pioneers. Comes with slipcase.




Dark red cassette version.









IN STOCK




ADD TO CART



---





SOBEK - ILLUSIONS OF LUNACY CASSETTE BLACK




PRICE: $10.00




Graboid Of the Ground Records


Debut EP from this all star brutal death metal project featuring members of Cephalotripsy,
Gortuary, Six Feet Under etc... Black cassette version.







IN STOCK




ADD TO CART



---





SOBEK - ILLUSIONS OF LUNACY CASSETTE ROSE




PRICE: $10.00




Graboid Of the Ground Records




Debut EP from this all star brutal death metal project featuring members of Cephalotripsy,




Gortuary, Six Feet Under etc... Rose cassette version.









IN STOCK




ADD TO CART



---





SOBEK - ILLUSIONS OF LUNACY CASSETTE MINT




PRICE: $10.00




Graboid Of the Ground Records




Debut EP from this all star brutal death metal project featuring members of Cephalotripsy,




Gortuary, Six Feet Under etc... Mint cassette version.









IN STOCK




ADD TO CART



---





SOBEK - ILLUSIONS OF LUNACY CASSETTE RED




PRICE: $10.00




Graboid Of the Ground Records




Debut EP from this all star brutal death metal project featuring members of Cephalotripsy,




Gortuary, Six Feet Under etc... Red cassette version.









IN STOCK




ADD TO CART



---





BLOODY ANATOMIES - PARASICK CASSETTE BLACK




PRICE: $12.00




Graboid Of the Ground Records


Debut full-length album by Malaysian brutal death metal band Bloody Anatomies.
Black cassette with slipcase!







IN STOCK




ADD TO CART



---





BLOODY ANATOMIES - PARASICK CASSETTE DARK RED




PRICE: $12.00




Graboid Of the Ground Records




Debut full-length album by Malaysian brutal death metal band Bloody Anatomies.




​Dark red cassette with slipcase!









IN STOCK




ADD TO CART



---





RELICS OF HUMANITY - DECADE OV DESACRALIZATION CASSETTE BLACK




PRICE: $10.00




Graboid Of the Ground Records


Compilation of demos and promos from Belarusian dark brutal death masters Relics Of Humanity.
Black cassette version, comes with silver embossed slipcase!







IN STOCK




ADD TO CART



---





RELICS OF HUMANITY - DECADE OV DESACRALIZATION CASSETTE DARK BLUE




PRICE: $10.00




Graboid Of the Ground Records




Compilation of demos and promos from Belarusian dark brutal death masters Relics Of Humanity.




Dark blue cassette version, comes with silver embossed slipcase!









IN STOCK




ADD TO CART



---