IMPURE VIOLATION - KNEE DEEP IN THE DEAD
COMING OCTOBER 14
!
Impure Violation is back with their second conceptual Doom themed full-length opus 'Knee Deep in the Dead'. New album will reveal what the iconic franchise would be if it was a violent high-impact slam/brutal death metal album. Killer guitar riffs, destroying drum bombardments and monstrous guttural maelstrom will not leave you indifferent and you will want to plunge into this nightmare again. Each song is unique and takes you back to the various references of the cult shooter with the guest support from Adrian Cappelletti (Disentomb), Angel Ochoa (Cephalotripsy), Sam Marwick (Omnioid), Larry Wang (Coprocephalic), Jason Lambert (Putrified J), Nikhil Talwalkar (Anal Stabwound), Tarren Whitfield (Iniquitous Monolith), Floor Van Kuijk (Carnifloor). Mixed and mastered by Sam Marwick at Slam Machine Studios. Amazing cover art by the almighty Mottla!
---
BROODING FEAR - ABOMINATION
AVAILABLE NOW
!
Ungodly Ruins Productions welcomes Netherlands/Hungary Blackened Death Metal horde Brooding Fear into their expanding roster! The band is ready to unleash their debut album "Abomination" coming on December 3, 2021. Get ready to plunge into the dark labyrinths of progresssive bloodcurdling riffs, explosive solos, demolishing drum passages and sinistrous vocals. Do not miss this amazing piece of obscurity!
---
INFILTRATED MANKIND - INSIDE THE APELIKE
AVAILABLE NOW
!
Infiltrated Mankind is a crushing technical death outfit originally hailing from the heart of Baikal Lake, Eastern Siberia reinforced by the amazing Florent Duployer (Kakothanasy, Anachronism) on drums, mighty bass power of Anton Zhikharev (Neurogenic, Fleshbomb) and Zlatoyar (Endocranial). Their debut album "Inside The Apelike" is a new reading of apocalypse through the bleak lens of misanthropic loathing. 10 tracks of intense and organic sounding tech-death for fans of Decrepit Birth, Spawn Of Possession, Archspire decarated with a variety high speed bombardments, bewitching and atmospheric melodies, severe grooves and stunning brutal vocals. Sound producing, engineering and mixing by Alex Sedin at Ghostalgy Prods. Cover art by Anton Semenov.
---
LOGISTIC SLAUGHTER - LOWER FORMS OF LIFE
AVAILABLE NOW
!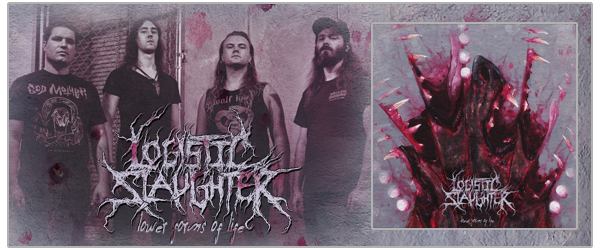 Bay Area, California based dissonant tech brutal death metal titans Logistic Slaughter is ready to unleash their second conceptual full-length opus "Lower Forms of Life" on April 30, 2021 via Ungodly Ruins Productions. Their unsurpassed hysterical manner of rendition, filigree instrument skills, varied sick vocals and own vision of extreme music will not leave you indifferent and will plunge you into an atmospheric abyss of pain and misery. Mixed by Kurt Ballou at Godcity Studios. Mastered by Scott Hull at Visceral Sound. Cover art by Dusty Ray.
---
CYTOPARASITIC - IN THE DOMAIN OF MISERY
AVAILABLE NOW
!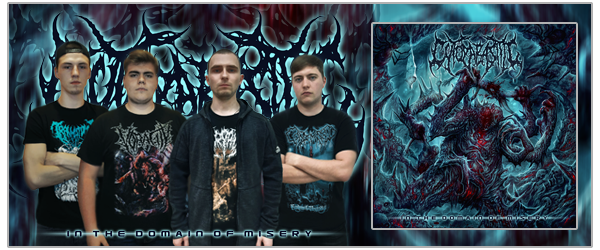 Ungodly Ruins Productions proudly presents Russian brutal slam death bulldozer Cytoparasitic! This young but very promosing blood thirsty quartet will destroy everything in its path with their debut full-length record 'In The Domain Of Misery'. Smashing guitar riffage, bone crushing drum hammering and furious guttural onslaught will not leave indifferent any fan of quality and varied slamming brutality!
---
VENOM SYMBIOTE - DOMINION OF THE ANCIENTS
AVAILABLE NOW
!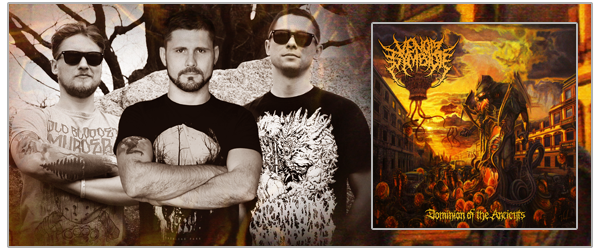 Ominous Lovecraftian writings are reborn in the form of crushing debut album from Belarusian brutal slam death syndicate Venom Symbiote! Amazing songwriting, uncompromising brutal and atmospheric riffage, mostrous gurgles and powerful sound production for all fans of high quality slams and the dark master's universe. Do not miss this great release!
---
NAEGLERIA FOWLERI - ODES TO THE ADORABLE ESSENCE OF PUTREFACTION
AVAILABLE NOW
!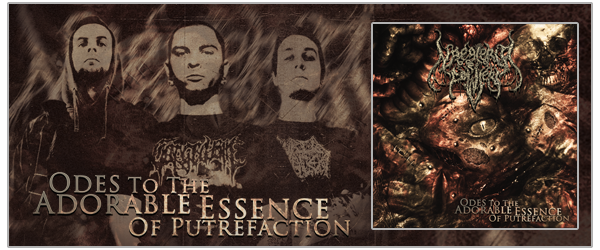 Highly anticipated full-length opus from ultra blasting gore whirlwind Naegleria Fowleri. "Odes To The Adorable Essence Of Putrefaction" is nothing but a relentless slab of sonic decimation from members of Hydrocele and Bowel Leakage. 19 tracks of harsh 300+ BPM ear laceration, savagely produced by Gravestone Studios. Do not miss this BLASTerpiece!
---
DRIPPED - PUTRESCENT OMNISCIENCE
AVAILABLE NOW
!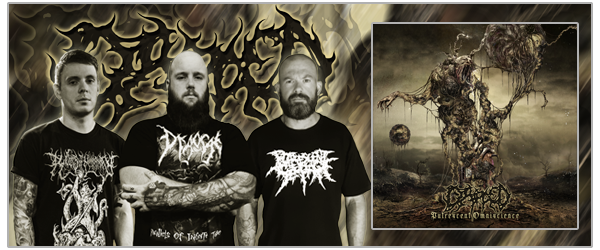 Ungodly Ruins Productions proudly presents Australian brutal death metal slaughterhouse Dripped and their debut 6-track EP "Putrescence Omniscience". Furious tech stuff for all fans of Disgorge (US), Putridity, Condemned etc. Mixed and mastered at Slam Machine Studio. Amazing cover art by Inhumar Flesh Media. Pay attention to this piece of pure rampage!
---
TON - ASHES WHERE THEY STOOD
AVAILABLE NOW
!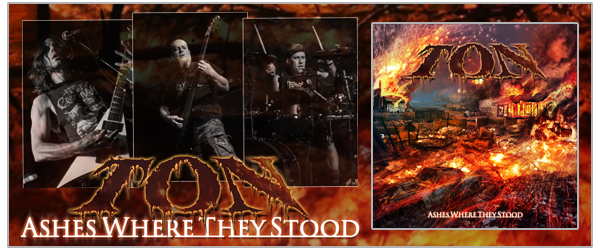 Long awaited new album from Ohio death metal masters! 8 tracks of amazing guitar and drum structures flavored with a unique triple vocal attack, a huge number of branded and catchy riffs and the classic atmosphere of catastrophic chaos! Featuring guest vocals from mighty Frank Rini (Internal Bleeding) and Bob Clark (Fully Consumed). Mixed and mastered at Mercinary Studios. Cover art by the amazing Tony Koehl.
---
HEAVY LIES THE CROWN - GEARS OF INHUMANITY
AVAILABLE NOW!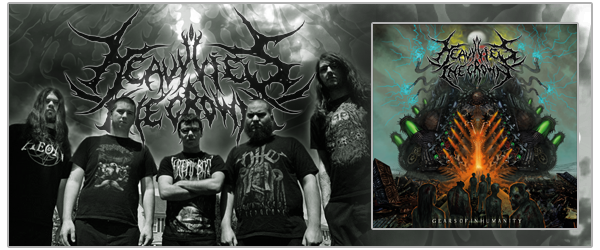 Indianapolis, Indiana based brutal tech death onslaught Heavy Lies The Crown joined the Ungodly Ruins ranks and are ready to unleash their conceptual devastating opus "Gears Of Inhumanity" with furious remastered sound, updated visual part and new merch designs. Uncompromising high tech brutal riffage, savage bombardments and diverse extreme vocal attack perfectly complemented by bewitching melodies and turn this release into a masterpiece of genre. Available on regular jewel-case CD and as limited to 100 hand-numbered copies digipack edition with alternate design.
---
EMBODIMENT OF SUFFERING - REVOKING SALVATION
AVAILABLE NOW!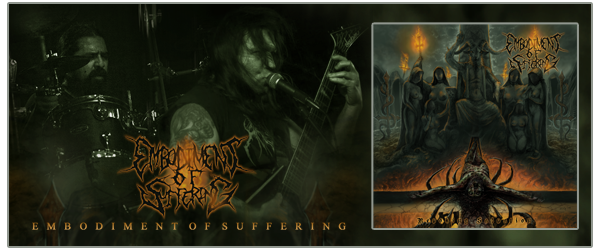 Ungodly Ruins Productions proudly presents blasphemic TXDM malediction Embodiment Of Suffering and their debut CD "Revoking Salvation". Hailing from Austin, Texas this insatiable beast bring us the best TXDM traditions in the form of annihilating blastbeats, crushing grooves, explosive guitar passages and sinistrous vocals. Featuring amazing cover art by the master of darkness Jon Zig. Do not miss this piece of brutality!
---
EPILEPTIC SHIT - TOXIC SLAM OVERDOSE
AVAILABLE NOW!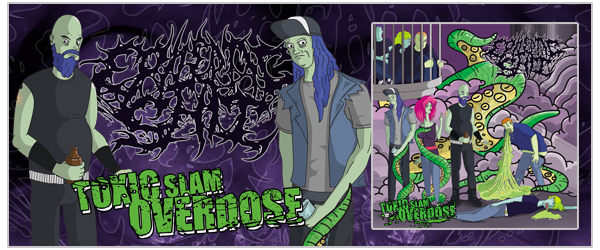 Ungodly Ruins Productions loudly presents venomous Aussie brutal slam intoxication Epileptic Shit and their crushing debut release "Toxic Slam Overdose". 4 tracks of nuclear bombardments, sick guitar deeds and tasty gurgles right in your face! Do not miss this amazing CD!
---
TON - DEFECT
AVA
ILABLE NOW!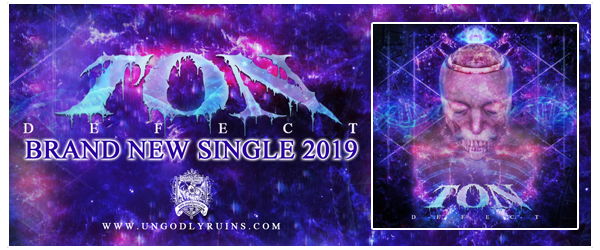 New killer single from Ohio death metal masters TON! Featuring the legendary Frank Rini from undisputed kings of slam Internal Bleeding and amazing Bob Clark of Ohio tech-death titans Fully Consumed as vocalists. The band continues to work on their new album, which will be released in 2020! Limited editon CD version of "Defect" as well as new "Cognizance" t-shirt design is available for pre-order in our stores.
---
INDECENCY - PATH OF DESECRATION
AVA
ILABLE NOW!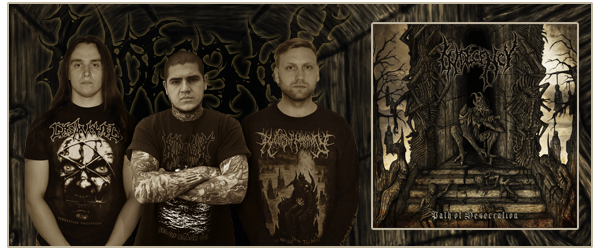 Ungodly Ruins Productions proudly presents debut EP "Path Of Desecration" from dismal us-way style contamination called Indecency. Severe and dark atmosphere of their brutal death metal vision with mesmerizing riffs, blasting drums and stunning brutal vocals will not leave you indifferent. Grab your copy now!
---
TOTAL DESPAIR - PERFECT LIFE FORM CREATION
AVA
ILABLE NOW!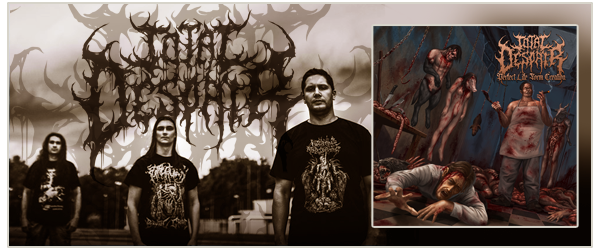 Brand new devastating opus from Russian brutal tech-death juggernaut Total Despair is finally ready to break out! "Perfect Life Form Creation" is a half an hour of brutal high speed execution with massive slam hooks and sinistous growls in the best traditions of genre. Killer sound production done by Sasha Borovykh at TsunTsun Productions (Cerebral Effusion, Devangelic, Inherit Disease). Cover art by Timbul "BvllArt" Cahyono (Monstrosity, Terrorizer, Defeated Sanity). Do not miss this amazing CD!
---
CORPSEFLESH - REARRANGED WITH A 12 GAUGE
AVA
ILABLE NOW!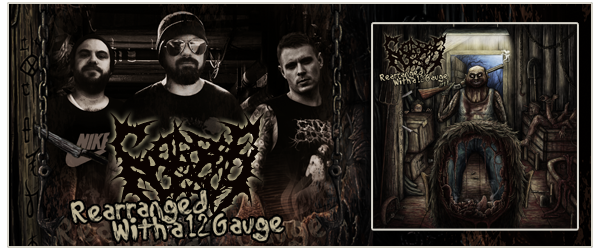 Long awaited second full-length from Aussie barbarians Corpseflesh is nothing more than a true canonical Brutal Death Metal and the logical continuation of their antecedent deeds! "Rearranged With a 12 Gauge" is full of furious guitar arrangements, sinistrous blastbeats and monstrous growls. Nine hymns to violence and cruelty that you have long lacked. Mark the release date with a bold red cross and wait for this devil's spawn of grim brutality to unleash.
---
SENTENCED TO DISSECTION - BETWEEN THE WORLDS
AVA
ILABLE NOW!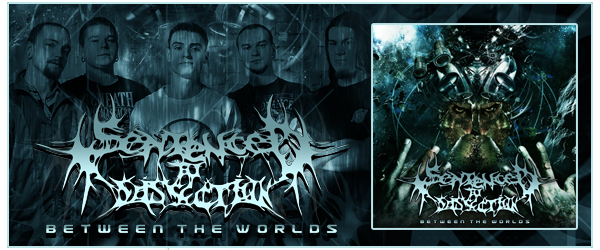 Sensational demolishing opus from Russian Tech Death outfit Sentenced To Dissection is finally will be released physically with merchandise and bonus songs. Merciless brutal riffage, crushing drum passages and killer vomitations for all fans of Beneath The Massacre, Spawn Of Possession and Origin. Available on regular jewel-case CD and as limited to 100 hand-numbered copies digipack edition. Do not miss this amazing album!
---
LETHALITY - PROMO 2018
AVA
ILABLE NOW!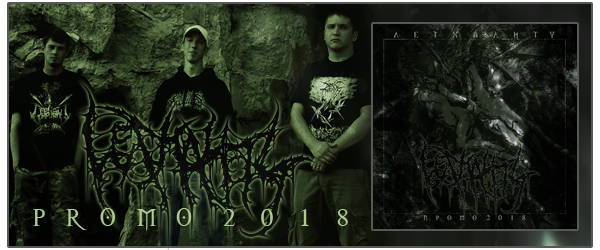 Brand new 4-song promo from Ural based blasting whirlwind Lethality is a presentation of a new face of the band and the fragment of forthcoming full-length monument which will be out in 2019. Strictly limited to 300 copies worldwide, factory pressed CD in cardsleeve!
---
CRUD - HYMNS OF VIOLENCE
AVA
ILABLE NOW!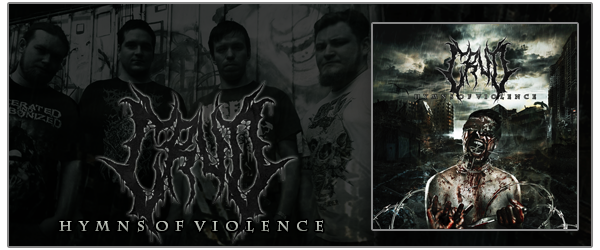 Crushing debut full-length from Russian maelstrom is full of smashing brutal structures, tragic tremolos and uncompromising slam inserts for all fans of Vomit The Soul, Stabwound and Severed Savior. Do not miss this amazing CD!
---
VORACITY - SHRUNKEN HEADS VERTIGO
AVA
ILABLE NOW!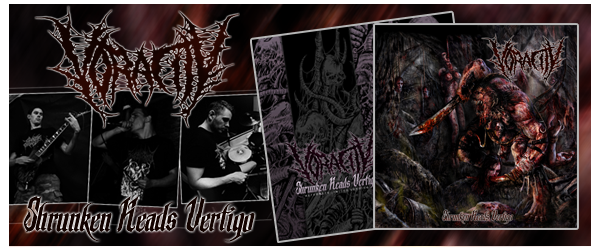 Debut full-length album from Ukrainian slam squad Voracity is nothing but a raging chaotic sickness ready to proliferate! Uncompromising blood-soaked riffage, ruthless drumming and deep guttural vocals. This piece of sonic brilliance will be released in 2 versions: regular CD version and limited to 100 hand-numbered copies alternate version with different design. Cover art by the almighty Matthias Auer!
---
IMPULSIVE GLUTTONY - ENLIGHTENMENT THROUGH
NARCOTIC DISSOLUTION
AVA
ILABLE NOW!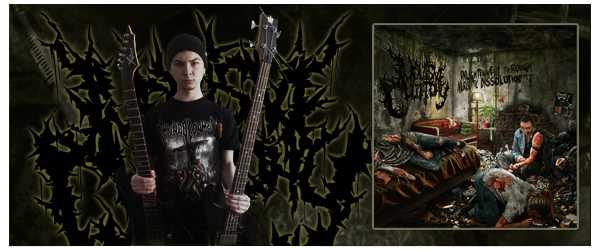 Debut 3-track EP from Impulsive Gluttony is a raw, filthy guttural slam for all fans of Cerebral Incubation, Artery Eruption and Digested Flesh! All music solely composed, recorded and mixed by Alex (Egregious, Bowel Leakage). Enlightenment Through Narcotic Dissolution will be limited to 500 hand-numbered copies. Ltd.50 Demo 2012 free with 25 first pre-orders of any CD+merch package. Do not miss yours!!!
---
WEAKNESS - DEMOLITION
AVA
ILABLE NOW!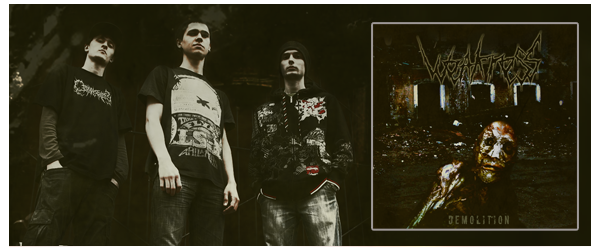 Uncompromising slamming butchery from Siberia for all fans of early works of Devourment, Cephalotripsy and Infernal Revulsion. Demo 2009 plus two rare unreleased old tracks as bonus. Limited to 500 hand-numbered copies. Do not miss this sickness!
---
GURGLECTOMY - SEAS OF ROTTING VOMIT
AVAILABLE NOW!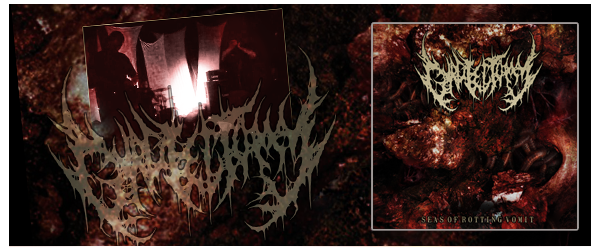 Re-issue of well-known sick EP from Argentinian blasting guttural death monsters Gurglectomy. New get-up and one killer unreleased bonus track! The last chance to get this amazing release into your collection. Limited to 500 hand-numbered copies!
---
BOWEL LEAKAGE - HARVEST OF NAUSEATING REMNANTS
SOLD OUT!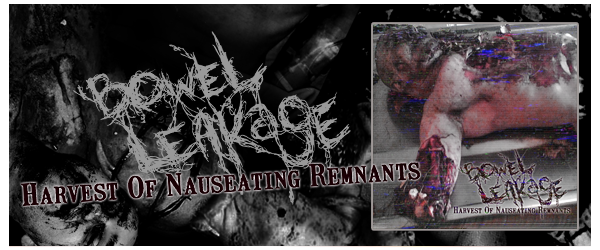 Bowel Leakage hailing from Moscow will exterminate humanity with this EP. 6 tracks of blasting goregrind with guest vomitations from NX5 (Active Stenosis) and Erwin De Groot (Last Days Of Humanity, S.M.E.S.). Limited to 100 hand-numbered copies!
---
GORGED BILE - ORIGIN OF CONTEMPT
AVAILABLE NOW!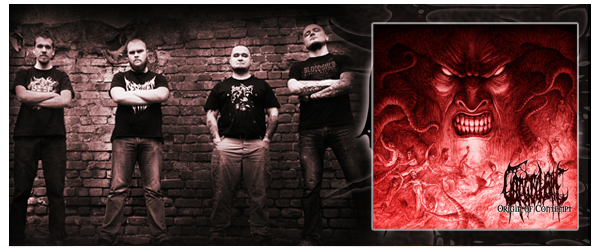 Merciless Moscow brutality is back with their brand new album. Sick guitars and bass passages, uncompromising drum patterns, killer vocals... 10 tracks of slashing structures with more hate than first time! You have been warned!
---
SATURNO - Thou Art All
AVAILABLE NOW!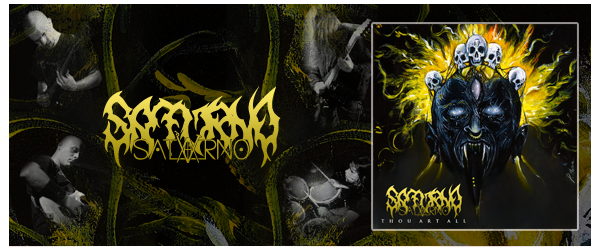 Ungodly Ruins Productions proudly presents Saturno! Atmospheric death metal tornado from Italy with some tech delights, bewitching melodies, conceptual lyrics and
killer vocals. Do not miss this amazing CD!
---
BAALSEBUB - THE SICKNESS OF THE HOLY INQUISITION
AVAILABLE NOW!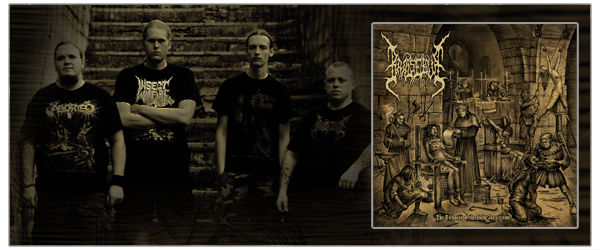 Ungodly Ruins Productions extremely presents the long awaited debut full-length CD from Estonian medieval brutal execution Baalsebub. Eight tracks of crushing blasting style with some smashing slam inserts, killer riffs and sick vocals. Amazing cover art by Alex Tartsus Studio. Do not miss your copy of this masterpiece.
---
SLAVES OF SUFFERING - ADVENT OF DESPAIR
AVAILABLE NOW!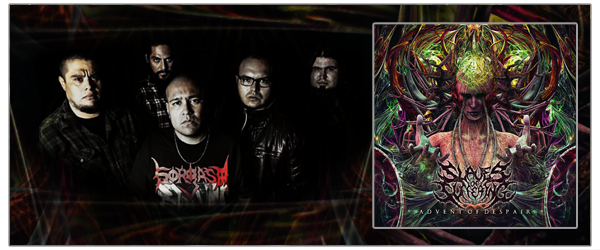 Uncompromising guttural butchery from the bowels of Tijuana featuring ex-members of Shattered Eyes! Be ready for brutal guitar riffs, massive drum attack and deep guttural vocals. Powerful sound production done by Diego Soria (bass-player of mighty Disgorge and Broken Hope) at AudioZombie Recordings. Sick venomous cover art by the well known Remy Cuveillier (Headsplit Design)...
---
OLDER ENTRIES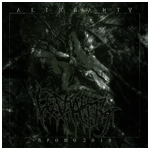 LETHALITY
Promo
ORDER NOW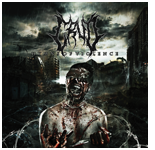 CRUD
Hymns Of Violence
ORDER NOW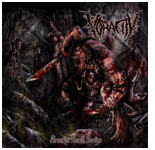 VORACITY
Shrunken Heads Vertigo
ORDER NOW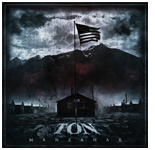 TON
Manzanar
ORDER NOW