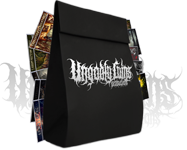 UNGODLY RUINS - GRAB BAG
PRICE: $39.00
Grab bag is a best way to clear out overstocked items for us and enrich the Death Metal collection
for you! You have no clue what you'll get, but you'll get at least 10 CDs, stickers, posters, maybe
some demos or promos. There are two grab bags for one person max and no refunds or exchanges
for the stuff, it's an adventure for you, good luck...
SOLD OUT